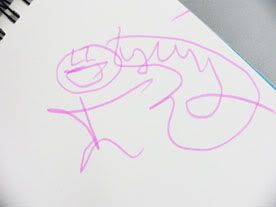 SIR IS SLEEPY AND DREW A PICTURE FOR EVERYONE. 8D
Me: SIR YOU HAVE TEN MINUTES BEFORE BED,
DRAW.
Her: I'M SHLEEPY.
Me: I DUN CARE, DRAW.
Her: AAAAH'M SHLEEPY.
Me: HERE. -grabs notetaking highlighter and sketchbook, runs over to her desk- DRAW. I'LL HELP. 8D
Her: NUUUuuuuuu fine. D;
Me: -steadies her hand- 83
Her: -draaaaaaaaaaaaaaaaaaw- Dx There.
Me: Beautiful. :D
Her: It's not what I wanted to draw. D;
Me: Too bad, I'm showing everyone. :D
Her: Nuuuuuuu D;
-JAZZHANDS- 8D